Welcome to the Halibut Fishing Capital of Alaska
Rates for 2018
Homer Still has a 2 Fish Limit!
Low Season September
$250 per person plus sales tax
High Season May, June, July & August
$275 per person plus sales tax
Call for May full boat special.
Price includes fish filleting and all bait and tackle.
We require 50% deposit to confirm your reservation.
We accept cash, travelers checks or personal checks.
New 2018 Halibut Fishing Regulations from the IPHC
Limit two halibut per day, if taking two per day one must be 28 inches or smaller.
You are allowed a total of 4 charter caught halibut per person per year.
There will no halibut fishing on Wednesdays all season and no halibut fishing on

Tuesday

s July 10 thru August 14, 2018.
We are available for fishing other species on halbiut closure dates.
To request a reservation please call, email us or fill in the form below and we'll respond ASAP: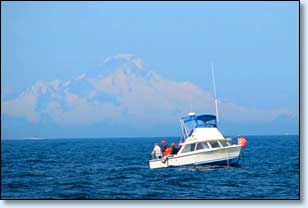 What you need to bring:
Alaska State fishing License
Food and drink for the day
Warm clothing (layered is best)
Rain gear (just in case)
Derby tickets (you never know)

Captain Brian Nollar
Box 3107 · Homer · Alaska · 99603
Phone 907-235-6483 · Cell 907-299-3047
Email: bnollar66@gmail.com
Site created & maintained by Net Alaska Web Services Homer, Alaska
© Midnight Sun Halibut Charters and Net Alaska Web Services, Homer, AK